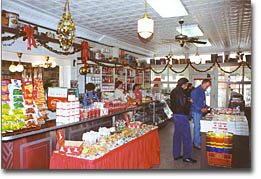 G.A. Schimpff's Confectionery is one of the oldest, continuously operated, family-owned candy businesses in the United States. It was opened in its present location in 1891 by Gustav Schimpff Sr. and Jr. (See History for more information.)
This unique confectionery and lunch room in Jeffersonville's downtown historic district comes complete with a 50's soda fountain and original tin ceiling. The old-fashioned candy jars, cases, and turn-of-the century equipment transport you back to the good old days of home-made candy and a real fountain drink.
Its Candy Museum and Candy Demonstration Area offer a glimpse into the world of historic candy making, packaging and advertising. Live candy-making demonstrations are frequently given. Tours are available and groups are asked to call in advance to schedule a FREE tour of the Candy Museum.
Schimpff's is famous for its cinnamon Red Hots, hard candy fish and Modjeskas. A more recent favorite is the chocolate, caramel, and pecan confection molded into the shape of a turtle. (See Local Candy and Candy Store for more information.)
Hoosier "sweeties" travel to Sweden!
On August 9th and 10th, Warren and Jill Schimpff will be representing their candy business, Schimpff's Confectionery of Jeffersonville, Indiana, at an invitational, international candy-making competition in Granna, Sweden. They will be the only US competitors. All participants will be asked to prepare the same confection, red-striped peppermint sticks called polkagrisar, or polka dancing pigs. The challenge is to make 32 of the sticks, 1.8 ounces each, from 3.8 pounds of sugar. All polkagrisar must meet certain strict specifications.
Granna, in south-central Sweden, is famous for this oddly named sweet. In the US, Mackinac Island means fudge, New Orleans means pralines, and Atlantic City means Salt Water Taffy. In Sweden, Granna means polkagrisar. The competition will take place outdoors along the shores of Lake Vattern, Sweden's second largest lake. On day one, twenty participants will be whittled down to five. On day two, the five finalists will battle for the championship.
The Schimpffs don't expect to win, but they do hope to have a lot of fun as they will have the chance to meet other candy makers from Europe. Since the Schimpffs lived in Sweden for one and a half years in the 1970s, they also plan to visit with many friends whom they have not seen in forty years.
The Swedish Contest is just the topping for what has been a heady summer for the two candy makers. The US Small Business Administration recently chose Schimpff's Confectionery as the Family Business of the Year for both the State of Indiana as well as the Great Lakes Region. In addition, on July 19th, the Indianapolis Star featured Schimpff's as one of ten foodie destinations for an enjoyable Indiana summer trip. Entitled, "Food Tripping", the article mentioned that, for the second year in a row, Schimpff's hard candies will be available at the Hoosier Market in the Dupont Food Pavilion at the Indiana State Fair.
Good luck to the Schimpffs whose contest results, win or lose, will be both Swedish and "sweetish."
You can follow the candy competition online at www.candychampionships.com
July 30, 2013
News and Tribune
Sweet Trip to Sweden for Jeffersonville Candy Company
---
Schimpff's honored as 2013 Business of the Year!
As part of this years Small Business Week recognitions, Schimpff's Confectionery was honored by the U.S. Small Business Administration as the 2013 SBA Indiana, and Region Five, family-owned business of the year!

Featured New Items!

Schimpff's
Refrigerator Magnet

$4.75
[Add to Cart]


(Click on photo for larger image.)

Cuddly Brown Teddy Bear
wearing a red Schimpff's Sweet
Business T-shirt
Sits 9 inches high.
$12.99
[Add to Cart]
Order Form
Mail or fax your order. Click here for our 2013 Fall & Winter Order Form
Buy Schimpff's Candy Online!
Select hard candies, chocolate, and gift shop items are now for sale on our Web site. Visit the CANDY STORE to buy select Schimpff's specialties.
Lunch is served from 11:00 am - 3:00 pm M-F and 11:00 am - 2:00 pm Sat. and includes soup, sandwiches and homemade desserts. Schimpff's old-fashioned soda fountain serves traditional malts, milk shakes, sundaes, and sodas, as well as old-time favorites, such as cherry and chocolate Cokes.
| | |
| --- | --- |
| Schimpff's Confectionery has been serving southern Indiana and Northern Kentucky since 1858, and we welcome you to come visit us when you can. | |
---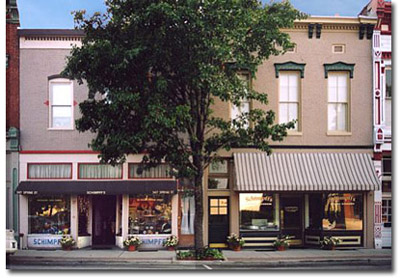 Schimpff's Confectionery and Schimpff's Candy Museum
M-F
10:00 am - 5:00 pm
Deli 11:00 am - 3:00 pm
Sat.
10:00 am - 3:00 pm
Deli 11:00 am - 2:00 pm
Sunday
Closed
Summer Extended hours: Fridays from 10:00 am - 8:00 pm and Deli hours on Fridays are 11:00 am - 7:00 pm.
Closed Dec. 24th at 3:00 pm - reopening Jan. 2 at 10:00 am
Closed Memorial Day, July 4th, Labor Day, and Thanksgiving Day
Please call for special holiday store and deli hours for the week before Valentine's Day, Easter and Christmas (Deli may close early or be closed).